Performance Fuels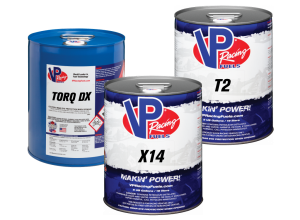 VP Racing Fuels is best known as the World Leader in Race Fuel Technology™, fueling champions around the world in virtually every form of motorsport on land, sea and air since 1975. VP's fuels have a well-earned reputation for offering more power and unparalleled consistency.
A Fuel for Every Application
VP believes every application deserves a fuel designed to optimize performance, a philosophy that lead to its development of more than 70 blends. Given that, there's no need to ever leave power on the table. Regardless of your application, chances are VP has a fuel blend to help you take the lead and keep you there.
Official Fuel of Racing
With more than 40 years of success, it's no wonder VP has been selected as the Official Racing Fuel of the WeatherTech SportsCar Championship, AMA Supercross, World of Outlaws Sprint Cars and Late Models, NMRA, NMCA, Pirelli World Challenge, PDRA, Formula Drift and Rally America, among more than 60 VP-sponsored series and sanctioning bodies.
Currently Stocking the following VP Racing Fuels*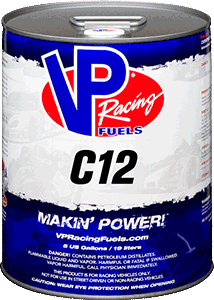 C12
The best all around racing fuel ever made. Recommended for compression ratios up to 15:1, satisfying the needs of 75% of today's automotive race engines. One of the winningest fuels in racing history, C12 has been the preferred fuel for drag, oval track, and road racers in North America and around the world. C12 is also the best all around two stroke fuel. Works great in vintage air cooled two strokes as well as new engines.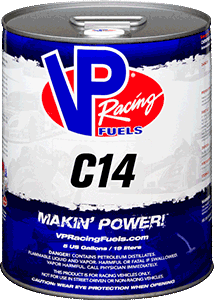 C14
Recommended for high RPM engines with ultra high compression ratios over 14:1. Spec fuel for NMRA and NMCA and dominant fuel in NHRA Championship racing for decades.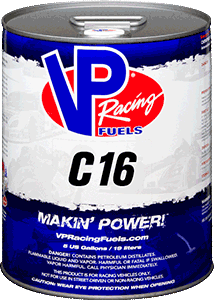 C16
Established a performance standard that still exists today for use in turbocharged engines, supercharged engines and nitrous applications with CRs up to 17:1. C16 is one of VP's most popular blends.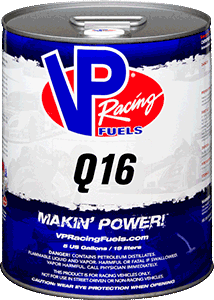 Q16
Q16 is primarily used in intercooled, forced induction drag race applications and is often regarded as the best oxygenated, leaded fuel VP produces. Highly oxygenated, requiring a 4-6% increase in fuel flow, which will make 3-5% more power than competitive 116 octane fuels. The added fuel flow also effectively increases the octane of Q16 by 6-8 numbers above its standard ASTM octane rating, yielding greater detonation protection. It's also used in any naturally aspirated drag race or truck pull application that doesn't require fuel rules and is very popular in jet limited nitrous drag applications. Q16 is a real record setter!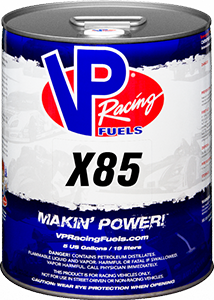 X85
Blended with 85% ethanol and 15% top quality hydrocarbons every time, unlike pump E85 which is very inconsistent.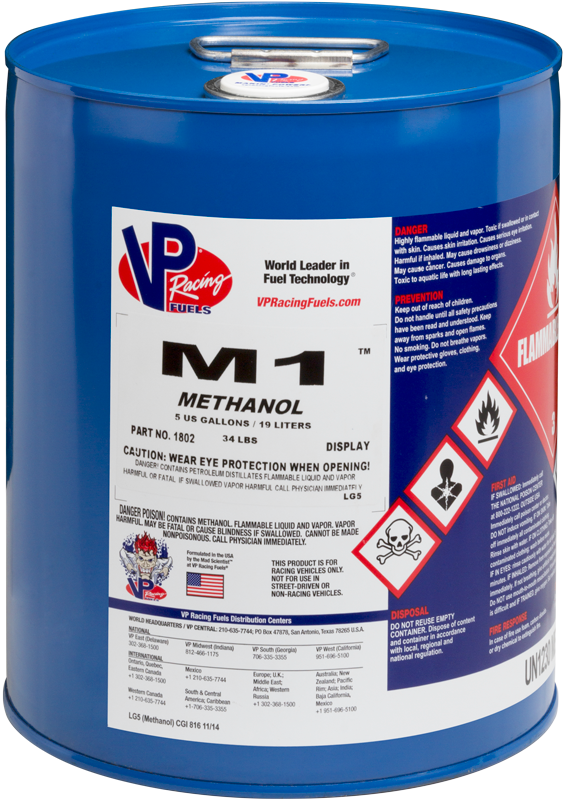 M1
M1 Racing Methanol has a 99.95% minimum purity – the highest purity available in the U.S. Compared to standard methanols, M1 engines run cooler and are less subject to corrosion. VP uses only lined drums which prohibit rust, corrosion and metal deposits that can contaminate fuel delivery systems. Recommended for all methanol-legal racing applications.
Limited quantities of these fuels in stock, and other fuel VP Racing Fuel formulations may be available upon request. Please allow 3 business days for arrival. Fuel is non-returnable/non-restockable once purchased.